●The trace of growth/changing of the individual tends
to be difficult, and to come to evaluate in short term.
●When the evaluator changes because of the group
redistribution,a past evaluation is not succeeded easily.
●Cooperation and the progress management of
information are difficult.
●Mid/long-term promotion management by objectives (Results Evaluation)
are difficult, because each data is not unified and visualized.

The existing legacy system that aims at making data base of personnel information mainly is not possible to correspond to the change in such a situation that need to equipped with flexible function that can quickly respond to thing like Introduction of performance-based evaluation human affairs.

Possible to evaluate promotion continuously by each Communicator's being able to accumulate the result and the content etc. of feedback,
and to inquire easily based on a mid/long-term target.
Moreover, the transparency of the evaluation rises, and it leads to the Communicator's motivation improvement. It becomes easy to do the infiltration of the evaluation system and the policy and thoroughness because of sharing information. Possible to use the workforce in various registered forms effectively.
Possible to improve the contact call quality, service level and performance.
●

Set targets, the difference of results be confirmed, and it leads aiming at results.

●

The function to use by management by objectives (Results Evaluation) can new and the addition
be changed and be deleted in "System setting function".

●

Possible to input the super visor and between communicators the input,
and the confimation only of the super visor, to confirm,and to use it as management by objectives (Results Evaluation) by the system setting.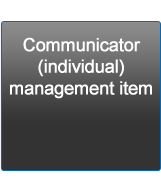 See Details
(1)Attendance   management
(2)Productivity
(3)Monitor evaluation
(4)Contact call quality
(5)Skill
(6)Business results
(7)Individual interview   history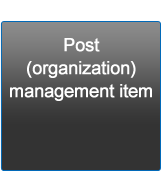 See Details
(1)Productivity
(2)Monitor evaluation
(3)Rate of filled   vacancy and   necessary number
(4)Quality   (complaint rate)
(5)Business results